I'll start off with some honesty: although I do occasionally go out to look at art, I'm not much of a gallery person. That's not to say I don't value and appreciate art, but at best I find galleries too much to take in, and at worst a nesting ground for pretentious sorts who are somehow able to interpret an artist's socio-political viewpoint from a particular brushstroke (and will scowl down their noses at you if your view is 'I like the colours in this one').
So despite being excited about the British Folk Art exhibition I was slightly wary going in. But I needn't have worried - none of my fears were realised. A subject as vast and varied as 'folk art' could have filled endless rooms and corridors, but Tate had about four rooms with themed selections that not only made it manageable, but interesting too. Of course there were some proper art buffs milling around, but their mutterings weren't audible over the hums of conversation between all the other diverse groups of people in there. What particularly stood out for me in this respect was seeing children genuinely engaged with the pieces. Your experiences may differ from mine, but for the most part when I've passed children in galleries or museums I've usually caught a 'this is so boring' or 'can we go home now?', not 'look, this is so cool!' which I heard a young boy say to his mum about the giant keys and boots used as shop signs.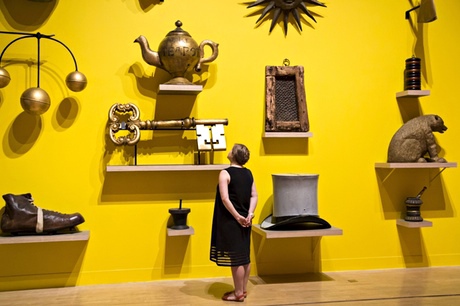 Wall of trade signs (from The Guardian)
The exhibition was hailed as a celebration of objects made outside the British mainstream over the last few hundred years, and was the first of its kind. 'At its foundation in 1768-9, the Royal Academy declared that "no needlework, artificial flowers, cut paper, shell work, or any such baubles should be admitted" to its prestigious exhibitions...' and examples of all of these, and much more, were featured.
Like I said, I don't know much about art; this is merely a few paragraphs about the things I found most interesting or beautiful, and I hope that many more of you have the chance to see the exhibition as it leaves the Tate and travels onward.
Two variations of 'The Earthstopper' by George Smart
George Smart (c.1775 - 1846) was a tailor in Tunbridge Wells who made collages out of textile and paper scraps. Smart reproduced his pictures to sell, resulting in many variations of his work. The exhibition featured different versions of 'Goosewoman', 'Old Bright the Postman', and 'The Earthstopper'.
Two walls were dedicated to the sea, the sky and land - common themes in folk art. They featured lots of wool-on-canvas work such as embroidered maps of the country, counties and solar system - even the layouts of farms. There were also several ships and seascapes usually made by retired sailers and fishermen, like John Craske (1811-1943), 'a Norfolk fisherman who took up painting and embroidery when he was forced to retire due to ill health'. On display was his woolwork 'Rescue', an embroidered image of a boat being rescued off the coast. The Royal Academy's rejection of 'feminine arts' included needlework, so it hadn't even crossed my mind that there would be male artists working with silks. And I wonder how many do now.
Within this area, one piece in particular stood out for me: the 1811 wool and silk solar system, created by a girl as part of her education. It included a quote from Milton's 'Paradise Lost' at the top, and depicted the orbit of a comet and the known planets of the solar system, including their distance from the Sun. At the time, Uranus was called 'Georgium Sidus' after the King. I wonder if I would have enjoyed certain subjects more when I was at school if I'd had the opportunity to learn them creatively - felted trigonometry, perhaps?
This Sweetheart Pincushion, made in 1896, would have been sent home by a soldier/sailer to a loved one, probably during the Crimean War. If you'd told me before that a pin cushion would blow my mind I would have laughed at you. But, wow, pins are fascinating! Back then pins were handmade and
very
expensive; so expensive in fact that they were only sold two days a year, as people would need the rest of the year to save up to buy them! And the folklore of pins was spectacular too: sticking a pin into a textile was said to bring luck to the person it was for; on ships, sailers associated pins with witches and called them 'little witches in disguise', yet they would still bring them on board as good luck charms to neutralise a witch.
The Harvest Jug, made in 1838 in North Devon from Red Earthenware with a yellow slip, has 'sgraffito' (scratched) decorations referring back to earlier traditions (and I'm pretty sure that's where we get the word 'graffiti' from). It depicts the Sun, a cockerel, flowers and leaves, and the text on the side is a poem exalting harvest labourers. The jug was made for harvest celebrations, and would have been a treasured possession within the family. I can't say exactly why I was so drawn to this. Perhaps it was the colours, maybe the mishmash of text and art, or just the fact that it is beautiful
and
practical - art with a function within the family.
One particularly mysterious piece was the God-in-a-bottle or 'whimsy', 'patience' or 'puzzle' bottle. From the late nineteenth century, they were associated with the Roman Catholic diaspora, especially labourers in northern England. Their purpose remains a complete mystery.
Gods in bottles (from New Statesman)
The oldest object on display was a wooden nutcracker c.1595-1605. It was carved like a person, and the nut would have been cracked in his mouth. On the theme of food, there was also a wooden g
ingerbread mould in the form of an alphabet square c.1600-1750.
There was a room full of carved figures for ships or trade signs. They were great...but I wouldn't have liked to have been alone in there. There was something creepy about them, especially the more garish ones. For me they fall into the same creepy category as clowns and china dolls, you know? Anyway, the garish ones had been more recently restored, and I discovered that a feature of much folk art is the repainting or remaking by many hands over time (does this count with folklore as well, and the way we rewrite and rework traditional stories?)
Mary Linwood's 'needlepainted' self portrait after John Russell (from The Foundery)
Mary Linwood (1755-1845) created an amazing needlework self portrait based on a pastel portrait done of her as a young woman. Linwood's art is called 'needlepainting' because it is so intricate, and her fame is based on embroidered copies of Old Masters such as Rembrandt. She was excluded from the Royal Academy as they would not accept needlework or other 'feminine arts', but as well as that, 'she remains largely unclassifiable, lacking the originality demanded of the fine artist, and the 'authenticity' required of the folk artist, yet also disconnected from domestic craft traditions.'
All these questions surrounding classification, intention and authenticity must have made it a real headache trying to put this exhibition together!
The final picture I took was of the felted wool Crimean Quilt (c.1853-6), which was '...created by soldiers injured in the Crimean War. It comprises over 10,000 separate pieces; the creation of such labour-intensive textiles was promoted among serviceman as a form of therapy.' Creating something like this would have helped to keep servicemen away from drink, gambling and women, and would have been a great help dealing with the effects of Post Traumatic Stress Disorder. It includes parts of soldier's uniforms; there is one myth that says it contains the uniforms of lost comrades as a memorial to them.
The final room examined folk art as an expression of community and collective identity, and the idea of the folk artist as a 'wholly idiosyncratic maker' e.g. Jack Punter and 'The House that Jack Built'. We were reminded that folk art and folk traditions are not part of some long-forgotten past, but are still alive today in the form of pearly kings and queens, mummers, master thatchers and straw effigies, well dressings and so on...
Exhibition room (from June Sees. Check out their review and more pics here)
If you can catch the exhibition at its next stop, please do! And here is a
review from The Guardian
.